Jewelry is considered a fashion accessory for completing an outfit.
The want to dress up and style your outfits gracefully has increased over the years.
Different accessories like bracelets, rings, picture necklaces, and earrings are used to not only uplift but also to enhance the outfits.
However, out of these accessories' necklaces have become people's favorite. 
In today's date, one piece of jewelry that is gaining much rise is a necklace with a picture inside.
These types of necklaces are known as the projection necklace and they are also the #2 most popular product on our website.
Projection necklaces are given as a gift to your loved ones. It forms one of the ways to keep the memories alive.
One of the ways to enhance your fashion taste and style. Not only women but men also become fond of it.
Even pet owners wear it to keep their pets closer to their hearts by keeping their pictures inside.
In case you are confused about what Projection Necklaces are. We are here to guide you in detail about them.
What are Projection Necklaces?
In easy words, projection necklaces are necklaces with a photo inside.
It is a way to recall all your previous memories making them fresh and alive by keeping them closer to your heart.
You may be surprised to know necklaces with a picture inside have been in trend for more than 140 years.
The trend of a picture inside a necklace was introduced by John Benjamin Dancer. 
The most exciting thing about these picture necklace is that it has the power to transform your favorite photo into a breathtaking and unforgettable jewelry piece.
The emotions it can hold for people who have lost their loved ones is something no other piece can match.
Keeping a picture of your loved ones so close to your heart gives another level of satisfaction and peace.
All your memories are stored under one gem.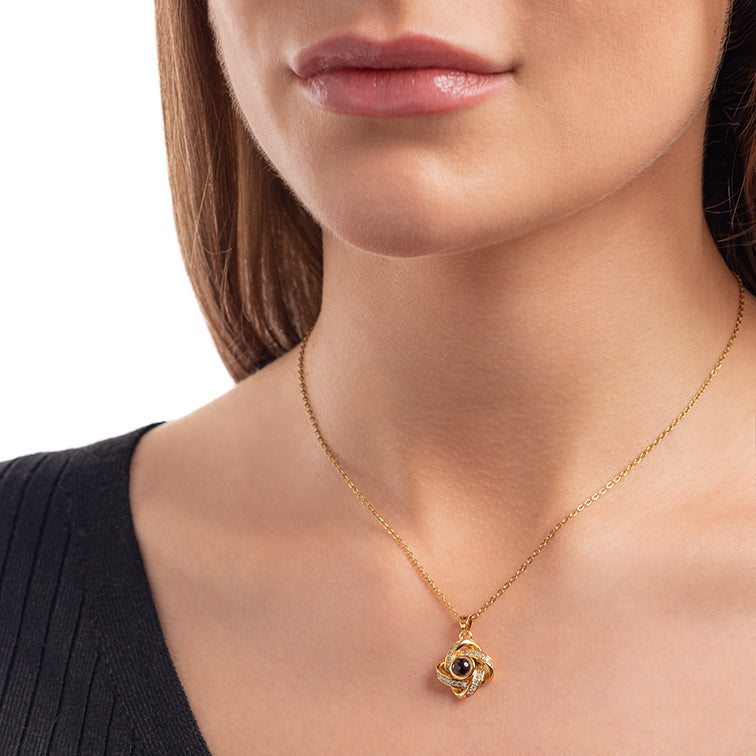 How do Projection Necklaces work?
Photo necklace functions as a mask, obstructing some light while enabling the words to shine on a wall or other surface.
The lens additionally enlarges the image, making it readable and visible to others.
The phrases project perfectly with only a little adjustment. Hence making it easy to send a message of love. 
The necklace with a picture inside uses the technique called microphotography; as mentioned earlier, it was introduced by John Benjamin Dancer.
He invented microphotographs to put on slides for microscope viewing; this technique later progressed into today's technology that we use today.
The first thing you do is to decide the picture you want in your necklace.
After the decision is made, the picture is turned into a 3mm microphotograph.
This piece is then inlaid on the flat surface of the molded lens.
Furthermore, it has a central gem place inside it which encloses any customized picture you want.
When light falls on this gem piece, the images get projected onto any surface nearby.
It is a unique and commendable piece of heart.
How to use Projection Necklaces?
If you are struggling to find out the easiest way to make these projection necklaces work.
Let us take you through all the different methods. One of these will definitely work out for you:
Using your phone camera:
You can use your phone camera to see the image clearly.
The image will get displayed on your phone screen. Here is what you can do:
Open the Camera on your phone.  

Set your phone camera lens on the front side of the pendant. As soon as you get the right angle, you will see the

picture inside the necklace

enlarged on your phone screen.
Using Flashlight:
Using any flashlight will also help enlarge and project the picture onto a surface. 
Use the flashlight on your phone. 

Stand while facing the wall.

The flashlight should fall directly on the flat side of the central stone of the necklace. You will immediately see the picture enlarged on the wall. 
Using one eye:
Hold the pendant close to one eye and just look into the central necklace. You will be able to easily see the picture.
What is the purpose of wearing a necklace?
As an Accessory
Use projection necklaces as simple accessories that add a little personalization to your outfit. If you're wearing a basic shirt and jeans, try pairing a projection necklace with your favorite pair of shoes and maybe even some jewelry.
You could also pair it with an additional accessory such as a backpack or purse.
Projection necklaces are used as a necklace worn around the neck, meaning you can use them as a necklace and wear them as a bracelet.
However, if you want to use it as a bracelet, you need to remove the clasp from the side of the necklace. It will allow you to attach your charms or charms to the front of your projection necklace.
If you want to use it as a charm for your charm bracelet, stick one end of your projection necklace into the hole in your charm and adjust it until it fits snugly.
Then either add another projection or continue adding more projections until your charm has been filled.
If you want to use this type of bracelet with other jewelry items such as rings or bracelets, put one end of your projection necklace through one hole on each piece of jewelry and adjust until it fits snugly against each piece of jewelry.
Then add another projection or continue adding more projections until all of your pieces have been filled up with charms or other accessories.
As the Focal Point of an Outfit
Projection necklaces are perfect for use as the focal point of an outfit when you want something unique but don't want to spend too much money on something that will sit there on top of your clothes until it gets dirty or lost forever!
For example, if you're going on vacation, why not bring along one with pictures from all over the world? Or if you're going to a wedding this weekend, why not bring along one?
Why do people craze so much for Projection necklaces? 
The reason behind so much craze and the trend is that you do not wear this necklace everywhere.
It is mostly worn on occasions that are very close or special to you.
Wearing it only on important occasions just adds to how important this necklace is.
It is special; you keep it safe and show less. 
Thinking of gifting it to someone special will just startle the recipient of your gift, and everyone else who sees it as the novelty of the necklace is undoubted.
The way this gem preserves your necklace is really surprising and astonishing.
Till now, no other jewelry piece has ever done can produce such an amazing result.
You'll be reminded of all the priceless experiences that might otherwise be lost every time you view your photo within the pendant.
It's a fun and inexpensive small present that you may give to the men or women you care about, such as your mother, wife, grandma, girlfriend, child, etc.
It's also the ideal present for pet owners who like holding their canines or felines close to their hearts.
When you order a projection necklace, you are ordering a personalized necklace. The chain will be made with your name, particular date, and location.
The projection is then placed on the back of the pendant so that it can be viewed through the front of the necklace.
The projection is visible only when light reflects off and shines on your face. To use this product, place your phone or camera near where you want to see your name or date (or both!).
Then open up any image editing app (such as Instagram) and take a photo or video in which you can see your name or date reflected in the lens of an object (like a camera lens).
You can also take photos or videos outside if there is enough light for them to be projected clearly into view.
A projection necklace is an excellent way to show off your photos and make them visible to the people around you. You can use it as a necklace, pendant, or keychain.
The best part about projection necklaces is that they are customizable. You can make them in any color and style you like. It makes them very easy to personalize for your loved ones.
How do you make a picture into a necklace? 
Adding a photo to your necklace can be a difficult task if you are a beginner.
For professionals, it is a breeze, but beginners like you might just waste hours on it and not get the perfection they want. 
So here at Personalize Everything by the way we make these necklaces.
You can simply tell us all the details, and we will customize it for you.
No need to waste time when there is someone to do it for you in the most perfect and precise way possible.
What is the standard necklace length?
Standard Necklaces usually range from 42 cm to 100 cm.
But the most common size worn these days by women and men is 45cm.
This size is best for all occasions, whether your event is formal or informal.
This necklace length will add a different grace to your outfits. 
Top 5 reasons why customized Projection Necklaces are the best gift:
Customized gifts are often associated with family and social class.
It is more like adding style to your looks and personality.
The efforts that are added in making these customized pieces add to the value of the piece.
Following are some of the reasons why giving a picture inside a necklace is considered one of the best gifts:
A way of expressing your thoughts and sincerity to others:
If you want to express your feelings towards others, then giving customized necklaces with a picture inside is the best way to do it.
You can use that picture which you think holds great memories of you two together.
You can also give personalized jewelry as a gift by adding a picture of someone the receipt loves or he has lost.
This will make the gift very close and precious to them.
Your expression of love and concern for the individual will be felt and treasured for a very long time, thanks to the design.
Unique Gift:
It is a one-of-a-kind gift that makes it distinctive, and as we all know already custom projection gift is an always preferred gift.
The recipient will be grateful to have a unique artwork in their possession right away.
However, a lot of jewelry stores may have the best and most unique jewelry items available.
These might be breathtaking, but the value and importance of a piece that has so many remarkable memories associated with it can never match.
Your receipt will definitely love it.
Mark our words!
Identifiable:
Normal necklaces are quite common. A lot of variety is available.
Plenty of different styles and designs are currently available in the market right now.
You can easily get it as a gift for your loved ones.
But do they hold anything that identifies them?
Give them their own importance?
No. There is a very less chance that some manufacturers would spend quality time making something identifiable.
However, we are here with an identifiable touch to your simple necklaces.
Projection necklaces are the ones you need to be identified among all.
This will be not only identifiable but also inevitable.
It will add a mark and an extra layer of protection to your purchase.
It's Memorable:
It's always a good idea to have something that will help you to save the memories of life's passing moments.
A tying factor that adds extra feeling to a particular event will be a memorable and enduring present.
Giving a present that is memorable and has great memories attached to it on a memorable day.
Isn't it the perfect gift one can ask for? 
Yes, it is.
The necklace has a picture inside, or maybe a day you spent together.
Is that day a memorable one for both of you?
Giving that, for instance, will recall all the memories from that day and what fun things you did.
What fun times it was.
Going back into your old memories is always a fun thing to do. 
Make bonds stronger:
Both of you will be reminded of your relationship and the significance of the gift as long as the recipient keeps on to the gift.
Relationships may be delicate, and giving someone special a piece of customized jewelry can ensure that your link will last a lifetime.
Giving a projection necklace will give a realization to the receipt how much you matter to them.
How much the time you spent together mattered to you.
How much you miss it.
Maybe a distance in your relationship has occurred over time. It's time to try to make it better and bring back the old times. 
You have a chance you get back your long-lost relationship back.
So, get your necklaces with a photo inside now before the time passes.
You won't have to go through regret later. 
How do I turn a picture into a pendant? 
Here are a few steps you can follow to convert your picture into a pendant:
Scan two photos of the picture into the computer. Two photos because your pendant has two sides; each photo will go for each side of the pendant. Print these out on paper at a size of 1-1/2" x 1". Print out encouraging names or phrases. The size of the page should be exact since it is going inside a pendant.



Use a glue stick to attach the phrases on the images you want on the

picture inside the pendant. 


Use a glass cutter to split a microscope slide in half. After cutting the pieces, you need to clean them; you can do that by using a glass cleaner.


The picture should be placed in such a way that it should give an appearance of a sandwich when placed between the two pieces of glass.


The glass's edges should be wrapped with foil soldering tape. Over the foil tape, apply liquid flux.


Use a soldering iron to apply solder over the foil-taped edges.


On the pendant's other side, repeat the soldering procedure. Use a soft cloth and flux remover to clean.


Apply flux to the top edge of the item while clamping it. Solder the two jump rings across the top while holding the jump ring using needle-nose pliers. Use flux cleaner to clean.


By wrapping the silver jewelry wire around round-nose pliers, you may create two small wire hearts. Each side of the pendant should have a heart soldered into the lower-left corner.


Using the flat-nosed pliers, fasten the chain to the wire that is strung with two beads adjacent to each jump ring on the pendant.


Here are 5 more simplified steps.
Step 1. First, you need to find a picture you want to use in your projection necklace. You can find many images on the internet and from other people. The picture should be large enough to fit into the space available on your projection necklace.
Step 2. After finding the right picture, you need to ensure that it is clear, clean and free of any background or unwanted elements. For example, if there is a person in the picture, then make sure there are no other people around them without changing their clothes or body features.
Step 3. Once you have found a good picture, then it is time for printing. If you want a quality printed image, use laser printers like HP Laserjet PRO 400 Color Multifunction Printer (MFP) or HP LaserJet Pro P1102 Multifunction Printer (MFP) X7100 Series with High-Yield Black Toner Cartridge.
Step 4. You need to decide on the type of necklace you will wear for your projection necklace. There are several different types of necklaces that you can wear. You can choose from a leather necklace, chain, or even a leather watch band.
After that, you need to buy your projection necklace. It is the most crucial step because it will determine if your projection necklace will be successful or not. Make sure to try on an array of necklaces until you find one that works for you.
Step 5. Once you have found a necklace and are sure it will work for you, it is time for the next step in the process, which is making your projection necklace. By making your own projection necklace, you save money and customize it exactly how you want it, making it more personal and unique than anything else out there today.
These processes are tricky, and only professionals can do it.
Not all of us have these tools with us; hence making a projection necklace of our own can be a difficult task.
You will have to find out the tools and then learn how to do it.
There are chances that major mistakes occur.
Hence, we are here to provide you with the same and exact necklace you want with précised details and perfection.
Get your customized necklace in different designs and styles from us now by visiting our page; you won't be disappointed.
The quality and duration are like nonothers.
So, what are you waiting for?
Place an order now and get your necklace within a few days of placing an order.
Final Thoughts 
Projection necklaces are a powerful way to capture memories. The necklace shines a light through beads strung together and onto a screen, projecting an image directly onto your body.
The effect is so realistic that you can see yourself in the image as if you were holding up your phone or camera to take a picture of yourself.
A projection necklace can be used for all sorts of fun things. It's enjoyable for parties, but it can also prove helpful in other situations where you must project an image from afar.
You might use it at home when you want to show off some artwork on your wall without going down there with your phone or tablet; stand still and hold up this necklace and enjoy watching the projection of your art.
Looking for a perfect gift that the receiver will always remember?
Customized necklaces with pictures are the best gift you can ever give to your loved ones.
Any picture that you think is memorable can be easily added to your necklaces.
Even you can wear it as a memory of someone you lost or your pet even. 
Get your necklaces now and gift them to your loved ones before it's too late.
Get back your long-lost relationship, and try making your bonds stronger by giving them projection necklaces.
This will definitely be the best gift one can ever have.